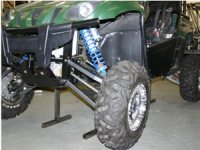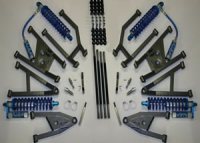 Kit includes:
(8) A-arms
(4) King 2.0 coil over shocks
(4) 300M axles
(16) Delrin bushings & Crush Sleeves
(2) Billet Tie Rod Extensions
(2) 17-4 Stainless Steel Tapered Pins
(4) Pre installed Uniballs for you Convenience
CONSTRUCTION:
Our Yamaha Rhino Long Travel suspension was designed as a 100% bolt on kit. No drilling is required for any of the A-arm pivots on the frame side as well as any of the hub carrier points. It is constructed from a combination of .095" and .188" wall thickness box tubing and fully TIG welded for the ultimate design in rigidity and toughness. Delivering you a suspension system that will take all the abuse you can throw at it. Back that by our unconditional life time guaranty on all A-arms and you have the best long travel kit available.
PERFORMANCE:
Wheel travel on the Rhino was kept to a conservative 12.5" in the front to prevent C/V binding at full droop with the wheels turned and a 13.0" of travel in the rear to keep the back tires from hitting the bed sides. Dont be fooled by ads stating 14.0" plus inches of wheel travel, those kits put the front out board C/Vs in a bind at full droop and put the rear tires into the bed sides at full compression. Our specifically valved shock made specifically for our kit by King Shocks combined with our engineered suspension system will out perform a ill handling off the shelf system with shocks you need to adjust so they work and some extended A-arms.
All Chassis pivot points are precision machined consisting of a weld on bung for the Yamaha Rhino suspension A-arm, two Delrin bushings and a Zink plated steel pivot sleeve. When you tighten the pivot bolt, the frame tabs lock the pivot sleeve to the chassis allowing the Delrin to pivot precisely and freely on the pivot sleeve. Both front upper and lower A-arms use a stainless steel WSSX-14 series spherical bearing ( 7/8 Wide series Uni-Ball) to handle the punishment, NO stock ball joints here. The bearings are complimented by our own 17-4 stainless steel misalignments, taper pins and adapters for maximum articulation of the larger bearing. All of our Uni-balls use the highest quality 12pt grade 8 hardware that has been plated for maximum protection and longevity.